For anything aside from memory intensive professional loads, it likely makes no difference for your end performance. However, you still have to decide, so onto tiny factors.
XMP only has value if you prefer/need to one click overclock and be done. Unfortunately, it is just the one preset most of the time and people always think there might be a little more available. Most of the time on good boards with half decent IMCs, you can set the 4 primary timings, DRAM voltage, VCCIO/SA and be good. That is not the quite the same level of high performance tuning that results from hand clocking secondary and tertiary timings, but that is a serious amount of work and not something to be casually recommended.
I am assuming this is for the board in specs and I also have an 8700 and pair of Z370 and Z390 boards with lots of testing between 3200-4000 MHz. You can bump your maximum read bandwidth up about 5% going from 3466 to 3733 and potentially again to 4000. However, I have run at 4000 19-23-45-T2 based on those specs and it is worse than 3733 at 17-19-39. That should be a fairly easy jump from 3466 16-18-36. I recommend the 3466C16 kit and you can run it at XMP or clock up one rung. It probably can do 18-20-41 or something similar as well at 4000. Now it is possible the 4000C19 kit can tighten up, but those gains between 3733 and 4000 are really slim. There isn't much reason for most people to push the envelope and ride the edge of stability where non-critical errors silently slow them down on a daily basis.
Here is 3733. In fairness it is CR1 vs CR2 on 4000, but you won't be able to get CR1 at 4000 anyway so it is the realistic comparison.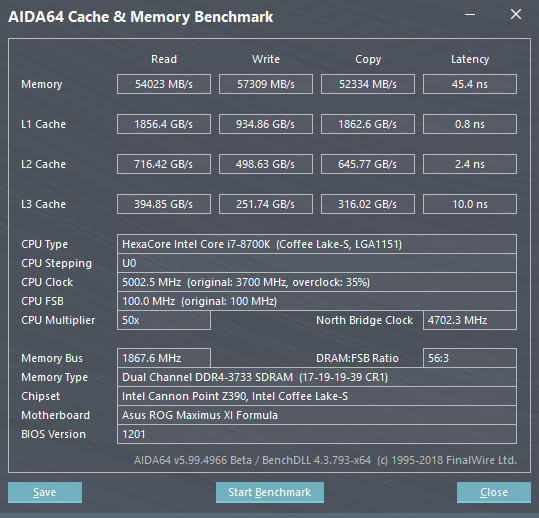 And 4000 with otherwise identical 17-19-39-(CR2) timings. Sort of makes me wonder why I am running 4000 at all.