I have Windows 10 PC WindowsApps World of Tanks Blitz (WOTB) for PC (Microsoft store Game App) which I want to add a couple of key assignments to toggle on when World of Tanks Blitz (WOTB), a Windows 10 PC game found in the WindowsApps folder, is run. Task manager shows the actual exe file Wot Blitz running, but also shows Runtime Broker running also.
I created a profile with CUE, but when I point to the WoT Blitz executable:
C:\Program Files\WindowsApps\7458BE2C.WorldofTanksBlitz_6.2.288.0_x64__x4tje2y229k00\wotblitz.exe
It does not work/see it when I run the game WOTB. i.e. my key assignments and colour of keyboard do not change.
If I run task manager, I find there is a Runtime Broker also running (pic below), and so I tried to change the profile to point to this program, but when I try to point to it, CUE does not see it even though I can clearly see it in task manger and windows file explorer. So Cue will not allow me to select it.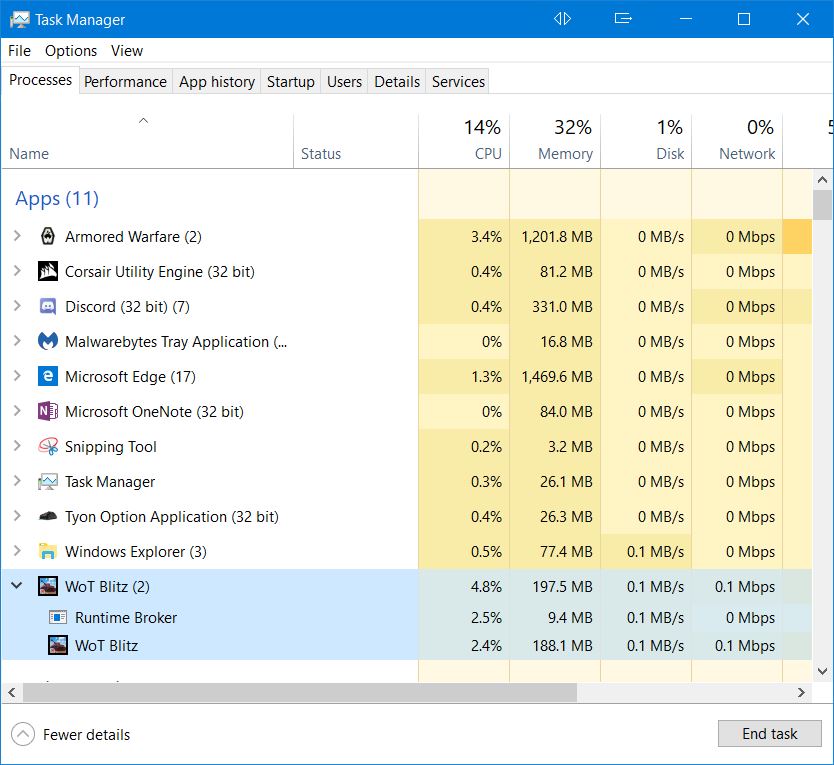 Anyone have any ideas if this is possible... (as I could see a lot of possibilities for people in the same situation would appreciate this)
I seen a couple of threads that did not have any real answers - working solutions, so asking if anyone has figured out how to get this to work, or if this is even possible?
https://forum.corsair.com/v3/showthr...ht=WindowsApps
https://forum.corsair.com/v3/showthr...ht=WindowsApps