Hello.
Windows 10 1803 actually.
A spam of:
WHEA Event ID 19 CPU-corrected hw error
A corrected hardware error has occurred.
Reported by component: Processor Core
Error Source: Corrected Machine Check
Error Type: Cache Hierarchy Error
Happens only on idle.

Screens are from january 21.01 but this is the same of course warning whea entry: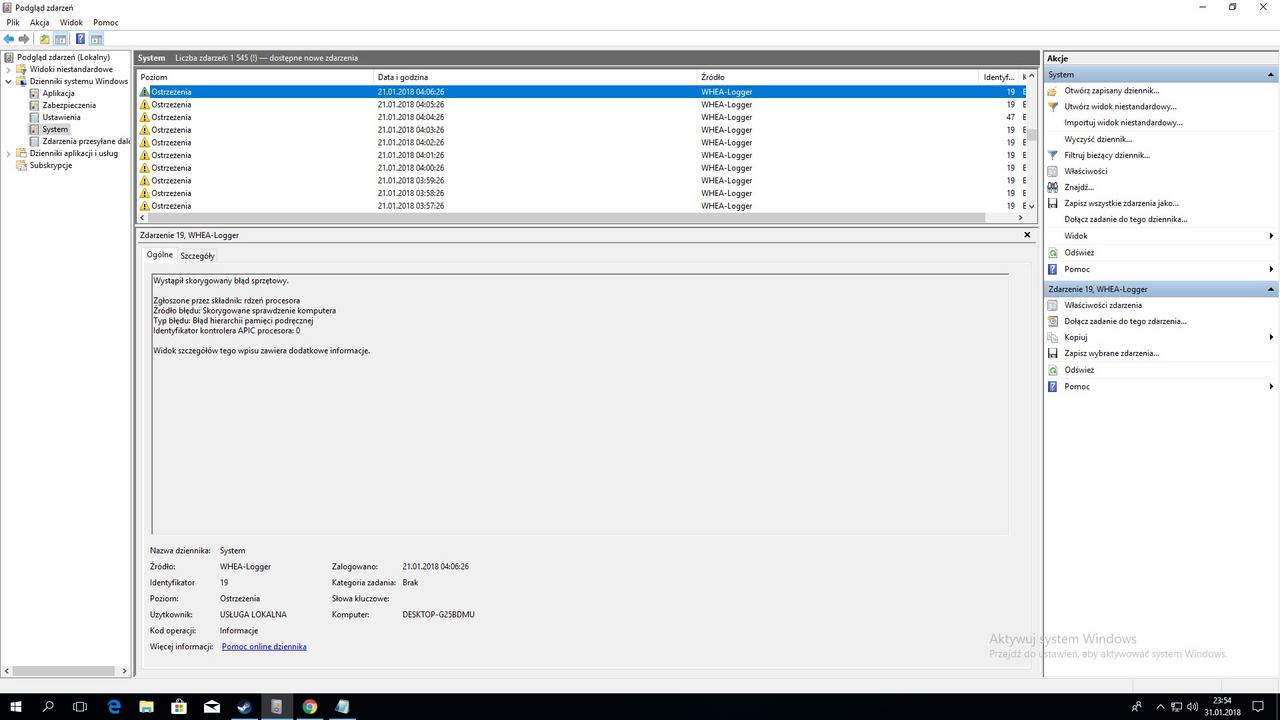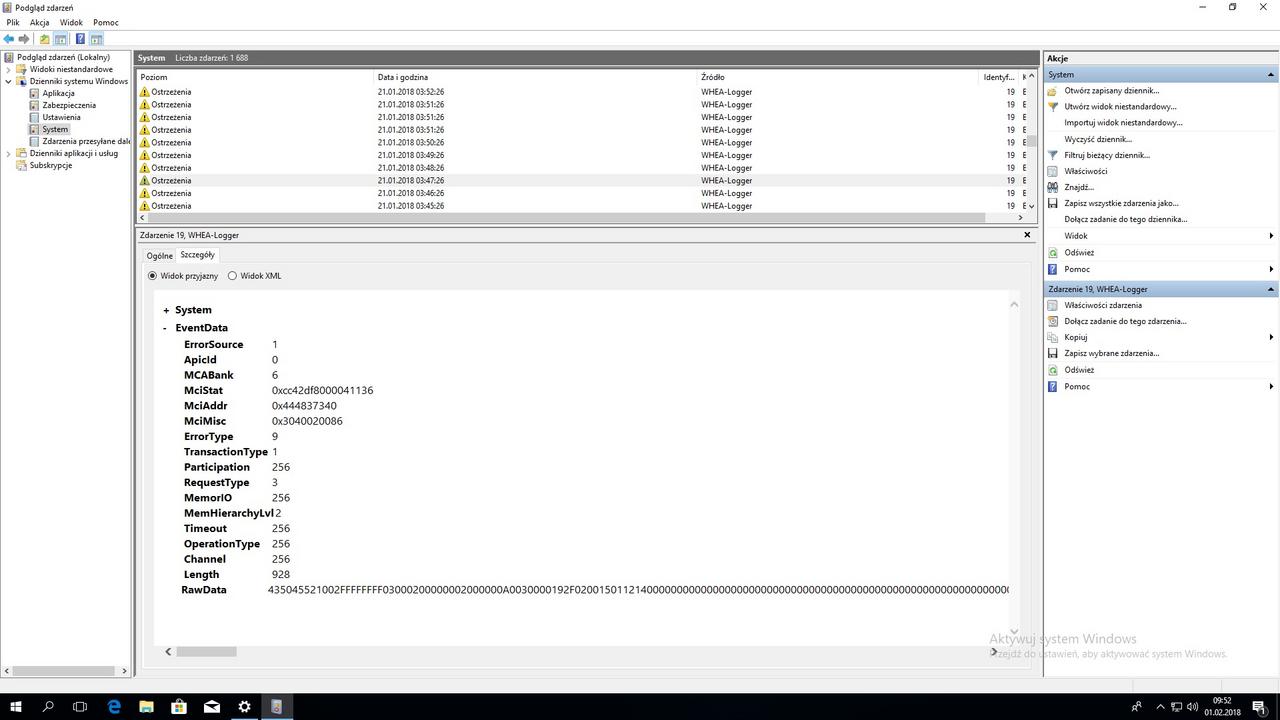 My pc:
8700K ( MCE is on )
2x8GB DDR4 3000MHZ G.SkillL
Corsair 750rmi
Asus Z370 Pro Gaming ( bios old from august 2017 )
Gtx 2080 Ti Gigabyte Windforce ( actually from october ). On january i had Aorus 1080 ti.
1xssd , 1xHdd
Conclusion:
First time it happened in january 21, but it stopped itself so i ignored. Card was 1080 ti Aorus in this time. Coincidence i think.
It happened again repeatedly after plugging Gigabyte Windforce 2080 ti in 15 october. That whea-logger 19 cache hierarchy error ( warning ).
Coincidence i think?
Windows 1803 the newest build was installed in 05 may.
During games on full load,benchmrks no whea loggers.
System is smooth and no crashing or data corruption.
Dont have any crashing,no freezing,no bsods,scores are fine etc.
But i tested different power plans on idle.
Power plan is balanced and clocks on idle are oscilating between 800mhz , 1200mhz, 4600mhz,3300mhz ,2300mhz etc etc, you know . Voltages together with clocks jumping oscilating between minimum 0.720v to 1.3v or 1.4v, etc etc. This is with plan balanced. But when i change to power saver mode this is the same. No difference.
Whea logger 19 cache hierarchy error every minute still appears.
So finally i tested high performance.
Steady 4700mhz clock on idle and voltage 1.4 core voltage according to cpuz ) and the same whea logger 19 every minute on log.
So i am lost now. For me its not because of voltages?
Because when gaming that wheas not appearing. On load clock 4700mhz and 1.4v+V.
But on tested idle yes ,each minute on the same second they appearing in event log,even with h.performance like i said above.
With balanced plan and power saver mode ( but between power saver mode and balanced i didnt notice any differences in fluctuating clocks and voltages on idle ) the same.
I tried all. Reinstall chipset,lan,gpu drivers ( maybe shall i try new hotfix drivers ? )etc and nothing helps.
Its happening only in idle with cpu usage 0+1+2% and all process killed.
Any ideas? : )