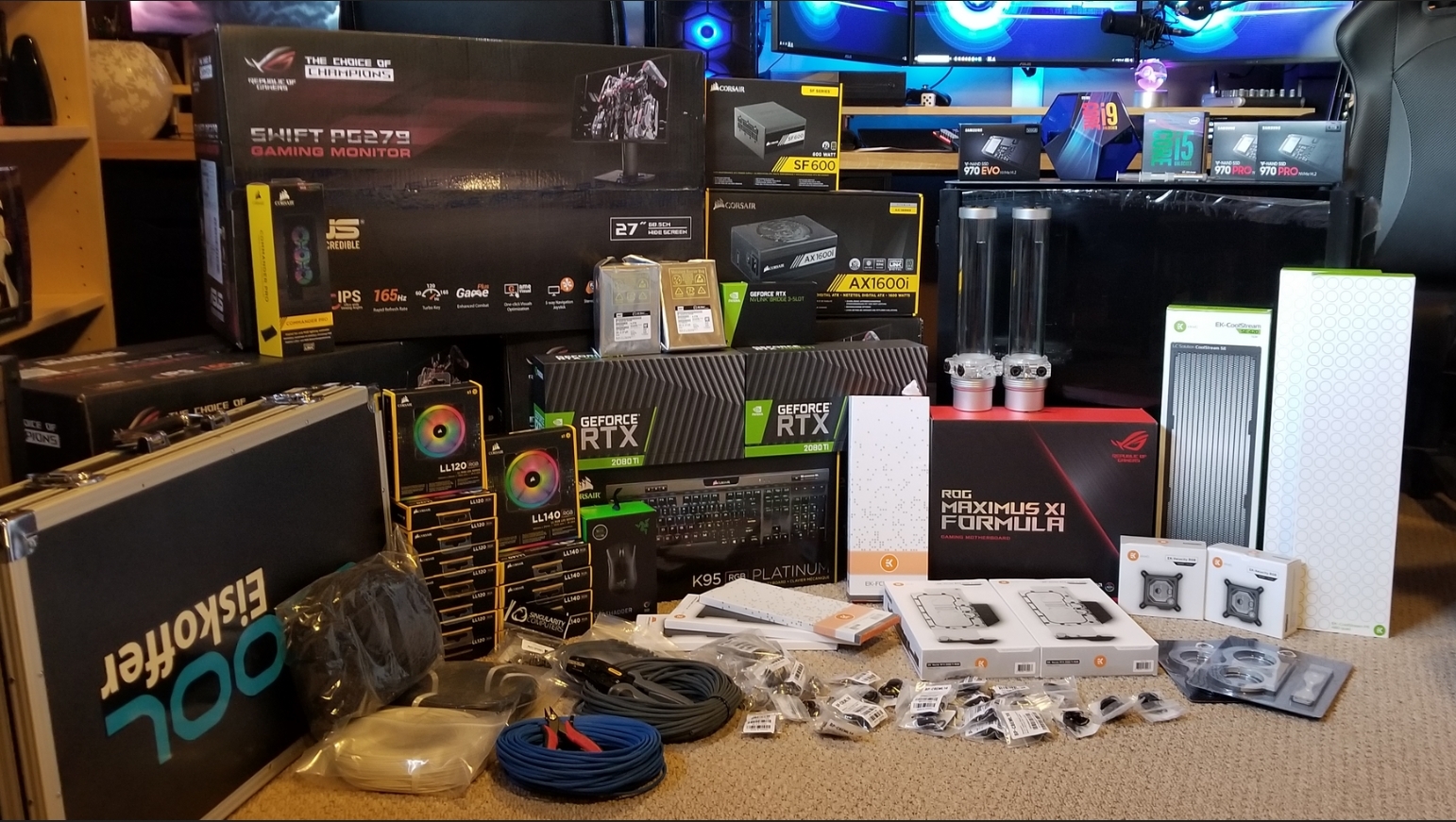 After a lot of waiting on components, especially the i9 I finally can start my next endeavour into water cooling and building my own sleeved cables just in time for temps to get down to -30c here >.<
Had a set back where the Z390-I ROG Strixx does not fit into the corsair 1000D case due to the VRM heatsink coming into contact with the shroud for the ATX mobo's video card slots as well as coming in contact with the back of the case which prevents the I/O shield to not line up at all properly. Waiting on another Mobo to show up to see if it fits properly as well as waiting to see what RAM prices are like now that they are coming back down in price befor ordering them and they aren't stopping me from building the rest.
Main PC
CPU - Intel i9 9900k
GPU - Nvidia RTX 2080 Ti Fe x2
Mobo - Asus Maximus Formula XI
Ram - N/A
SSD - Samsung 970 Pro 1TB M.2 NVME x2
HDD - Western Digital Black 4TB
PSU - Corsair AX1600i
CASE - Corsair 1000D
Mini ITX PC
CPU - Intel i5 9600k
GPU - EVGA GTX 1070 SC
Mobo - Gigabyte Aorus Z390 I "waiting on shipping to check fit"
Ram - N/A
SSD - Samsung 970 Evo 500GB
HDD - Western Digital Black 4TB
PSU - Corsair SF600
Water Cooling
Singularity Computers Ethereal dual rez mounts
Singularity Computers 250 mm Rez x2
Singularity Computers Acrylic pump top & D5 pump cover
Bitspower fittings
Bitspower 16mm PETG tubing
EKWB
EK Velocity CPU block's x2
EK Vector RTX 2080 Ti Acrylic block's + Back plates x2
EK-FC 1070 Water block + back plate
EK Coolstream SE420mm radiator
EK Coolstream 480MM radiator x2
EK D5 pump x2
Cables
MDPC Blackest Black/ B-Magic/ Titanium Grey sleeve
MDPC-X 15AWG wire